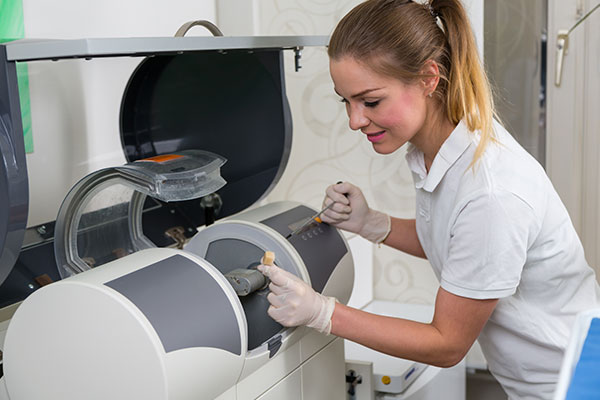 CEREC Commonly Asked Questions
What does the CEREC® acronym stand for?
CEREC® is short for the chairside economical restoration of esthetic ceramics.
What are CEREC® crowns?
CEREC® crowns are extremely durable crowns made in a single day at the dentist's office. There is no need to send impressions or any other information to a dental lab. The technology can complete CEREC® crowns in the office so you do not have to return for a second or third appointment.
Do CEREC® restorations look normal?
The dentist uses CEREC® technology in a nuanced manner to ensure the dental restoration is the perfect fit and aesthetic for your idiosyncratic mouth. The dentist will go to great lengths to match the CEREC® dental restoration to the color of the neighboring teeth. Once the CEREC® dental restoration is in your mouth, it will look perfectly natural.
No one will be able to tell you are using a dental restoration unless they work in the field of oral healthcare and get within a few inches of your teeth. Even then, such an individual might not be able to tell you are using a CEREC® restoration.
Why is CEREC® becoming so popular?
CEREC® crowns are popular and beneficial for several reasons. This technology makes tooth restoration quick and easy. You will not have to set time aside to meet with the dentist during multiple appointments in order to apply the restoration. Everything will take place during one appointment so you can go right back to your day.
CEREC® crowns prove just as functional as conventional crowns that professionals make in the lab. Those who have CEREC® dental restorations talk, eat and generally live life as they desire. CEREC® does give patients the confidence they need to be themselves in social situations.
Is the material for CEREC® dental restorations the same quality as the material for traditional dental restorations in labs?
The materials that dental labs use are on par with the materials that create CEREC® dental restorations. You should have no worries about whether your CEREC® dental restorations will prove effective for years or possibly even decades.
Are CEREC® dental restorations really as durable as touted?
Yes. We can make CEREC® dental restorations on-site with computer software and a solid block of ceramic. Your CEREC® dental restoration is likely to stand the test of time as long as you follow your dentist's instructions for care.
Why does it matter if a dentist uses CEREC® technology?
If your dentist offers CEREC®, it is time to rejoice. Patients around the world are clamoring for this dental technology. Dentists who embrace CEREC® dental technology should be respected for being at the forefront of the industry's advances. These dentists are trailblazers in the sense that they are willing to invest in a high-tech dental restoration technology in order to improve patient well-being.
Furthermore, CEREC® dentists wear multiple hats in the workplace. The oral health aficionados are not only dentists, they are also educators, surgeons and diagnosticians.
Please call Smiles by Design, PC today at (256) 660-3233!
---
Related Posts
April 10, 2019
Crooked and disjointed teeth can affect a person's self-esteem, but Six Month Smiles can help. They can also have a negative impact on oral and general health as they contribute to serious conditions like gum …
---