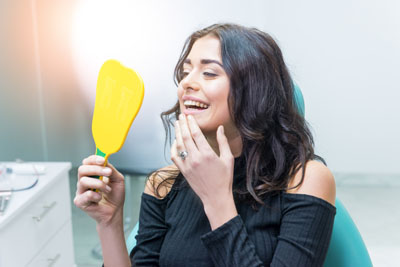 Are six month smiles an option? Yes! There is good news for those who are seriously considering getting their teeth straightened yet have been putting it off because they do not want to make a long-time commitment. When traditional teeth straightening methods are used, it tends to take an average of 18 months for the teeth to be straightened. While this means some patients may only need to wear braces for 12 months, others are going to need to wear them for 24 months or possibly longer.
Now there is a way that you can have your teeth straightened in only six months. This means that you are able to have the smile you have always wanted in only about six months' time, which is really exciting news when you are looking for a lesser time commitment.
Now that you know that Six Month Smiles are an option, setting up a dentist appointment for more information is your next step.
Straight teeth advantages
Having straight teeth is simply going to make it much easier for anyone to take proper care of their oral health. When teeth are crooked it can be really difficult to reach every area when brushing and/or flossing, which can lead to poor oral health due to the ability for bacteria to easily grow in these unreachable areas. Those who have crooked teeth are much more prone to having small spaces, and even large gaps, in between their teeth, making it a good idea for them to have their teeth straightened for their overall good oral health.
Those who have straight teeth smile more often!
Why six months?
Simply put, six months is going to be the perfect amount of time for getting one's teeth straightened. The fact that so many people are so very busy these days makes it difficult for many to find the time to get their teeth straightened. Now that the option to have one's teeth straightened in only six months is indeed an option, those who have been putting off getting braces can now begin the process of getting their teeth straightened so they can have the smile they have always wanted, and deserve.
Ready to have your teeth straightened in six months? Call us now for more details!
Bottom line
If you are someone who has been wanting to get your teeth straightened but have not taken the next step because you simply do not want to make a long-term commitment, understand that choosing a six-month smile is going to be your best option. When you choose Six Month Smiles, you can start feeling confident about your smile in a matter of just a few short months, which will fly by before you know it.
Be sure to contact us with any questions you have about short-term braces today.
---
Related Posts
February 2, 2019
These days, there are more seniors with their natural teeth and a healthy Smile than ever before. Dentists believe this number will keep increasing, ensuring a better quality of life and health for seniors in …
---