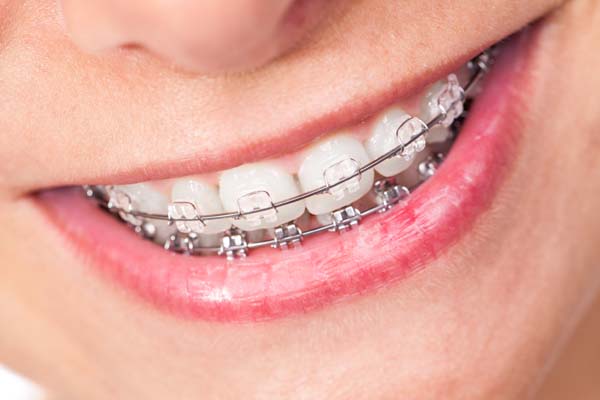 Having crooked teeth can present a lot of problems for people. They may experience trouble with eating as well as when they clean their teeth. Having crooked teeth can make it harder for a person to reach all areas of each tooth when trying to properly brush and floss each day. One's self-esteem may also be lowered if their teeth are crooked. However, there is hope.
As dentistry has progressed significantly, people with crooked teeth are now able to receive braces that are clear in color, thus allowing for a more discreet method of treatment. In this article, we will discuss clear braces so that anyone considering them can be well informed.
Clear braces from a general dentist
What are clear braces?
Clear braces are similar to traditional braces because they have the same process to straighten the teeth. However, the brackets are made of ceramic instead of metal, thus providing a clear treatment method. Ceramic is similar in color to that of a natural tooth so it's harder to notice the bracket. The wires that connect each bracket to one another may still be metal-colored but some dental offices do also have wires that are white or clear in color too.
Why visit a general dentist?
Some people may wonder why visiting a general dentist for braces is a good idea since they specialize in general dentistry services. However, a lot of general dentists are also trained in administering braces because the process is relatively simple. If a person has a general dentist that they visit for regular checkups then they may be more comfortable sticking with them for orthodontic treatment.
General dentists can offer up recommendations and advice on how to keep the teeth cleaned while wearing braces. And, they can continue to treat a patient for general dentistry needs such as cleanings, fluoride and any other problems that may arise all while helping them straighten their teeth as well.
Why get clear braces?
A lot of people avoid orthodontic treatment because they don't want metal filling their mouths. Metal can be distracting to the eye and most people don't want attention on their mouths when braces are being worn.
Clear braces allow a person to straighten their teeth without having metal brackets and wires fill their mouths. Because clear braces are made of ceramic materials, they won't be as noticeable and people won't have to worry as much about anyone noticing their braces.
Having clear braces placed on the teeth in order to straighten them can offer benefits to anyone who wants a more discreet treatment method. Clear braces do the same thing that traditional braces do but without the need for all of the metal. It's best to talk with a general dentist about clear braces as they can go over them in detail.
If you have questions about clear braces then reach out to our office today so that we can help you. Give us a call or stop by!
Are you considering clear braces in the Huntsville area? Get more information on clear braces at https://www.smilesbydesignhuntsville.com.
Check out what others are saying about our dental services on Yelp: Clear Braces.
---
Related Posts
November 2, 2017
Ever hear of clear braces? If you have been thinking about getting braces but have been putting it off because you do not like the idea of wearing traditional metal braces, you are definitely not …