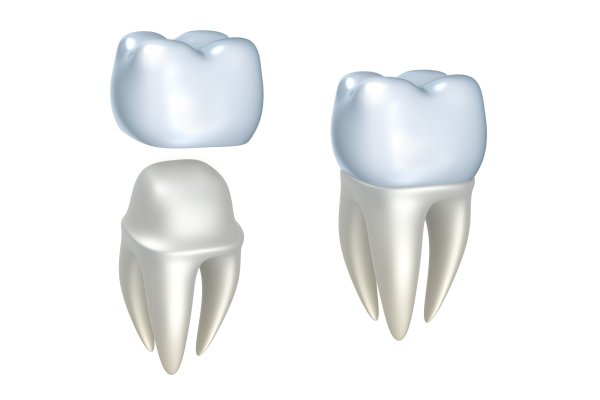 Dental Implant Crowns, the latest dental innovation, have brought millions who suffer the loss of a tooth due to tooth decay, periodontal disease, or trauma to a new hope for a good future of normal eating and speaking that partial bridges or full dentures never could completely accomplish. With a dental implant procedure, the dental crown is placed atop an abutment, or connector post, that is attached to a titanium post surgically rooted within the jawbone.
The implant crown functions just like your own tooth and just as well, if not better than those natural teeth allowing you to eat foods that those who wear full dentures or partial bridges may have to pass on. With implant crowns, you can enjoy that steak, corn-on-the-cob, carrots, nuts, and juicy apples — without fear! Dental implants are quite strong and permanently part of your mouth. This latter benefit, the permanent quality of an implant crown, is the purpose of this blog article.
The durability of your implant crown falls, in part, to how well you care for your new tooth. There must be brushing, flossing and using an antibacterial mouth rinse along with the usual bi-annual dental check-ups and professional cleanings as is done with your natural teeth. With such, a normal porcelain crown can last as long as ten to fifteen years before normal wear might bring the need for a replacement. Porcelain is best for imitating the natural teeth and lessens teeth sensitivity.
Other materials that can be used include porcelain fused to metal, ceramic, metal, or resin. Metal crowns, while durable, do not show well in appearance. Porcelain fused to metal implant crowns add to durability but not if the patient has any allergic sensitivity to metal, a ceramic crown also is very durable and like porcelain crowns match the look of your natural teeth. Resin crowns are the least expensive but not as durable. The choice of the best material should definitely be part of the initial consultation with your dentist when considering a dental implant procedure.
It is also important to note that a dental implant has two parts to it: the dental crown and the replacement root, which is made of sturdy titanium and rooted firmly into the jawbone. This titanium material will not corrode or decay and it has been found that such titanium roots have remained functional for thirty years! While it is rare, some reasons the titanium anchor 'might' fail would be gum disease, trauma to the tooth or jaw, or a poorly aligned bite.
Your implant crown can be extended beyond fifteen years with consistent dental care by your dentist, as well as your own diligent oral hygiene habits. The benefits of a dental implant will definitely bring back that self-esteem and confidence in eating and speaking as well as a beautiful smile speaking the beauty in your eternal soul!
For more information or to schedule an appointment with Smiles by Design, PC, request an appointment in our Huntsville dental office here: https://www.smilesbydesignhuntsville.com. Or call us at (256) 660-3233.
---
Related Posts
March 14, 2019
Having a missing front tooth can be extremely uncomfortable for a variety of reasons - including the way that it looks as well as the way that it feels. However, there is hope!As dentistry has …
---