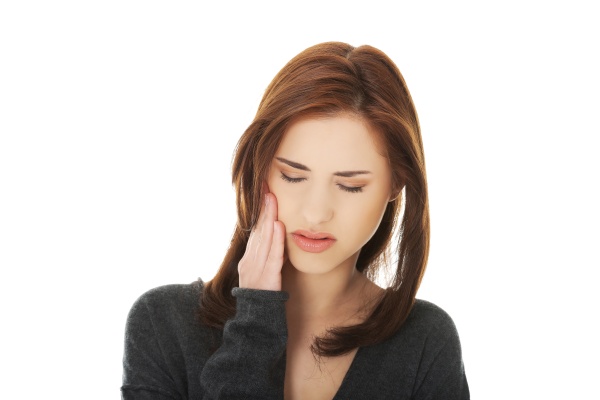 TMJ locking is sometimes a serious issue that requires emergency dental treatment to ensure the issue does not become worse or linger for longer than necessary. By understanding more about TMJ locking, you can know when treatment may be able to wait and when the issue requires more immediate attention.
About TMJ locking
There are many reasons why TMJ locking might occur, such as arthritis, jaw injuries and teeth grinding. The following is everything to know about TMJ locking, including what it is exactly, when the issue requires immediate attention and how a dentist might treat the condition.
What is TMJ locking?
TMJ locking is a jaw complication in which the hinge that allows the jaw to open does not work properly. A minor case of TMJ locking, otherwise referred to as lockjaw, may only lead to a clicking sound when opening the mouth or stiffness of the joint temporomandibular joint. More serious cases of TMJ locking cause severe pain, headaches and an inability to move the jaw. Any instance of the condition should be a cause for concern and often requires treatment.
When is TMJ locking an emergency?
It is important to know the difference between a serious case of TMJ locking and one that may not require immediate treatment. The best way to determine the severity of the situation is to examine the severity of the following symptoms:
Jaw discomfort
Pain around the ear
Difficulty chewing
Difficulty speaking
Headaches
If the symptoms are severe and almost intolerable, it is encouraged to seek immediate dental treatment, whereas minor symptoms may be able to wait a day or two for a more opportune moment.
How is TMJ locking treated?
The main goal of TMJ locking treatment is to loosen the jaw. The first thing your dentist is likely to do is to try and determine the cause, which is often difficult to do. Several of the known causes include jaw injury, arthritis, teeth grinding and chronic stress. The dentist will then prepare a treatment plan after considering the most likely cause, the severity of the condition and how urgent treatment is needed. For emergency dental situations, he or she will likely treat the initial symptoms and prepare for more extensive treatment of the underlying cause as soon as possible.
How to prevent TMJ locking
There are ways to minimize the risk of TMJ locking, including by consuming more foods that are easy to chew, minimizing jaw movement when possible and practicing jaw relaxation techniques. It is also helpful to visit the dentist regularly and discuss any TMJ symptoms you may experience.
Talk to a dentist about treatment
TMJ locking is a very scary symptom for many patients, especially in emergency situations where there is a high level of pain or the locking causes other general health issues. However, it is important to stay calm and call an emergency dentist as soon as possible when the issue occurs. Here at our emergency dentist office, we offer fast and effective treatment for TMJ complications such as TMJ locking.
Request an appointment here: https://www.smilesbydesignhuntsville.com or call Smiles by Design, PC at (256) 660-3233 for an appointment in our Huntsville office.
Check out what others are saying about our services on Yelp: Read our Yelp reviews.
---
Related Posts
December 13, 2019
One of the most commonly asked questions in general dentistry has to do with what causes sensitive teeth. Those who suffer from sensitive teeth know exactly how unpleasant it can be. But fortunately, it is …